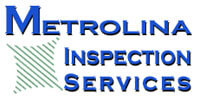 PO Box 11471
Charlotte, NC 28220
Phone: (704) 344-9065
Fax: (704) 344-9067
"We're Looking Out For You"

Dave Hahn, the Owner of Metrolina Inspection Services, LLC, is originally from Pennsylvania but has been calling Charlotte home since 1997. With a diverse background and many disciplines to call upon, including years of experience in the home construction field, years of corporate business experience, and a degree in Biology, Dave is uniquely qualified to address the vast array of inspection and testing needs of both residential and commercial clientele.
EXPERIENCE, SKILLS, ASSOCIATIONS:
LEED Accredited Professional (LEED AP)
Certified Green Advantage® Residential Environmentalist
North Carolina Licensed General Contractor (#52157)
North Carolina Licensed Home Inspector (#1732)
South Carolina Licensed Home Inspector (#1439)
Building Performance Institute, Inc. (BPI) Certified Professional

(Building Anaylst/Envelope Professional & Heating Professional)

Council-certified Indoor Environmentalist (ACAC #02288)
Certified Radon Measurement Specialist (NRSB 5SS0009)
Building Specs Inc. graduate

Home Inspection and Environmental Testing
Pool, Spa, Pier, and Bulkhead
EIFS (Exterior Insulated Finishing System)

NSPF® Certified Pool-Spa Operator/Inspector
Carson, Dunlop, Weldon, & Assoc. graduate

Commercial Building Inspection

Registered Technician Training, Structural Pest Control Div., N.C. Dept. of Agriculture
Extensive continuing education credits in construction/building trades, building science, energy efficiency, infrared thermography, indoor air quality, etc.
Member, North Carolina Licensed Home Inspector Association (NCLHIA), Charlotte Chapter President (NCLHIA)
Member, Indoor Air Quality Association (IAQA)
Affiliate Member, Charlotte Regional Realtor's Association (CRRA)
Service Provider, Angie's List (Award Winner 2006 - 2010, 2013, 2014, 2015)
At Metrolina Inspection Services, LLC, we are dedicated to providing you thorough and professional inspection or testing services. We blend our technical knowledge with our business experience to create practical recommendations, so that you, our client, feel comfortable that you're making an informed decision.
Remember:
"We're Looking Out For You"
View a sample inspection report, or request an inspection today.